USA to Issue More Green Cards Than Populations of Iowa, New Hampshire, South Carolina Combined
Article publisher:
BREITBART B BIG GOVERNMENT
Article Body:
The overwhelming majority of immigration to the United States is the result of our visa policies. Each year, millions of visas are issued...
The lion's share of these visas are for lesser-skilled and lower-paid workers and their dependents... added directly to the same labor pool occupied by current unemployed jobseekers.
...most will be able to draw a wide range of taxpayer-funded benefits, and corporations will be allowed to directly substitute these workers for Americans. Improved border security would have no effect on the continued arrival of these foreign workers, refugees, and permanent immigrants—because they are all invited here by the federal government.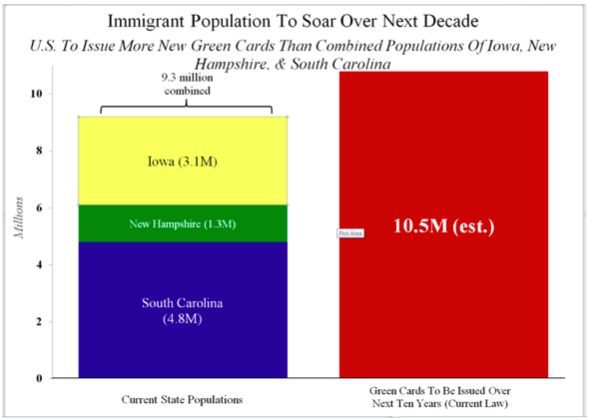 The most significant of all immigration documents issued by the U.S. is, by far, the "green card."...
Under current federal policy, the U.S. issues green cards to approximately 1 million new Legal Permanent Residents (LPRs) every single year....
These ongoing visa issuances are the result of federal law, and their number can be adjusted at any time.
...there is virtually no national discussion or media coverage over how many visas we issue, to whom we issue them and on what basis, or how the issuance of these visas to individuals living in foreign countries impacts the interests of people already living in this country.
If Congress does not pass legislation to reduce the number of green cards issued each year, the U.S. will legally add 10 million or more new permanent immigrants over the next 10 years—a bloc of new permanent residents larger than populations of Iowa, New Hampshire, and South Carolina combined.
This has substantial economic implications.
The post-World War II boom decades of the 1950s and 1960s averaged together less than 3 million green cards per decade—or about 285,000 annually. Due to lower immigration rates, the total foreign-born population in the United States dropped from about 10.8 million in 1945 to 9.7 million in 1960 and 9.6 million in 1970.  
These lower mid-century immigration levels were the product of a federal policy change: after the last period of large-scale immigration that had begun in roughly 1880, immigration rates were lowered to reduce admissions. The foreign-born share of the U.S. population fell for six consecutive decades, from 1910 through 1960.
Legislation enacted in 1965, among other factors, substantially increased low-skilled immigration. Since 1970, the foreign-born population in the United States has increased more than four-fold—to a record 42.1 million today...
Georgetown and Hebrew University economics professor Eric Gould has observed that "the last four decades have witnessed a dramatic change in the wage and employment structure in the United States… The overall evidence suggests that the manufacturing and immigration trends have hollowed-out the overall demand for middle-skilled workers in all sectors, while increasing the supply of workers in lower skilled jobs. Both phenomena are producing downward pressure on the relative wages of workers at the low end of the income distribution."
During the low-immigration period from 1948-1973, real median compensation for U.S. workers increased more than 90 percent. By contrast, real average hourly wages were lower in 2014 than they were in 1973...
President Coolidge articulated how a slowing of immigration would benefit both U.S.-born and immigrant-workers: "We want to keep wages and living conditions good for everyone who is now here or who may come here. As a nation, our first duty must be to those who are already our inhabitants, whether native or immigrants. To them we owe an especial and a weighty obligation."
It is worth observing that the 10 million grants of new permanent residency under current law is not an estimate of total immigration. In fact, the increased distribution of legal immigrant visas tend to correlate with increased flows of immigration illegally: the former helps provide networks and pull factors for the latter...
Yet the immigration "reform" considered by Congress most recently—the 2013 Senate "Gang of Eight" comprehensive immigration bill—would have tripled the number of green cards issued over the next 10 years...
Polling from Gallup and Fox shows that Americans want lawmakers to reduce, not increase, immigration rates...
Please take the time to read the FULL article - it's worth the time!